Innovation and commitment in each of our projects
In the parts manufacturing process, we adapt the production systems to the customer's needs. We have contact moulding, infusion, RTM, RTM Light and flex moulding manufacturing processes.
The manufacture of composite moulds is carried out with high chemical resistance resins, guaranteeing an excellent result.
The numerical control model machining service complements the design phase to achieve a perfect model. This, together with the precision machining thanks to the waterjet cutting machine, results in high quality parts.
The advantage of composite materials is the number of options they offer. The resin we use can be isophthalic or vinylester resin, which gives the final material greater chemical and mechanical resistance. This results in different materials with different properties.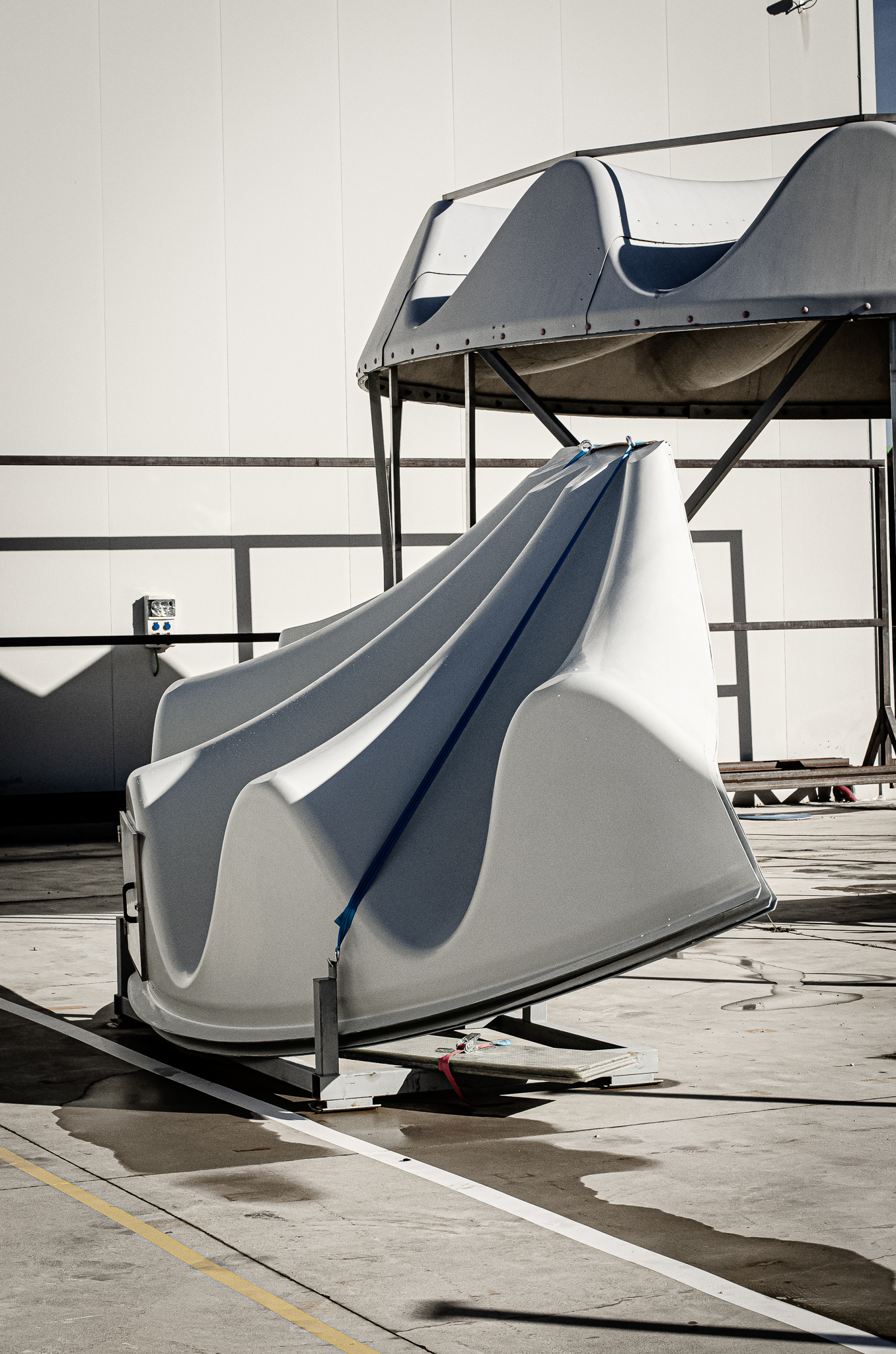 Development of circular hyperboloid caps with 13 different diameters
The covers had to be self-supporting, the parts making up the cover had to be bolted together instead of welded so that they could be disassembled, and a tolerance of +/- 1 mm per part was required.
First a model was made with 70 density polyurethane, then a mould was made with all the layers we offer plus a release agent treatment. Afterwards, the parts were manufactured using a spraying process.
Development of covers with different inclinations and diameters.
The covers were to be removable and transportable in a 40-foot container. They had to be self-supporting and have a certain mechanical rigidity to support loads on top.
Different models, moulds and parts were manufactured to form the covers with different inclinations. In addition to pieces for stiffening, also in GRP, which would be screwed to the lid. Depending on the diameter, they had more or less pieces to be transported.
Manufacture of closed boxes as membrane enclosures.
The customer came with a drawing of the final part. It had to have a very high corrosion tolerance, as it was to be placed in chemical waters.
Manufacture of GRP plates with vinylester resin, machined, assembled to finish 2 metre boxes to which flanges have been welded. With a gel-coat finish.
Development of boxes for the protection of water pumps.
The box had to protect the pumps from external aggression. In addition, it had to have a vent in case they overheated. At the same time, the sound of the bombs had to be isolated as much as possible.
The boxes were made of GRP panels, lined on the inside with polyethylene and aluminium insulation. In addition, doors were fitted to facilitate access to the interior.
Design and manufacture of submersible lamella packages.
Plates 50 mm apart, compact and positioned at a 30° angle, movable as a package and to be constantly submerged in water. Nothing could be welded and as few screws as possible.
A support for the plates was designed, parts to be able to attach the plates to the support without the need to screw them. All parts were machined and assembled in the factory.
Manufacture of vats with high chemical resistance.
Designed to contain acids; a liquid with density 2.8.
Vinylester resin was used to manufacture the vat, with an internal coating of vinylester barrelcoat, with polypropylene-headed trunnions.